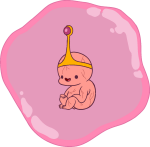 Add any fan art of Embryo Princess here. Just make sure it is appropriate.
Apparently she has some sort of telekinetic power that enables her to create a bubble around her that resembles an amniotic sac.
Although she has not talked in the series, she is not mute.
Natasha Allegri came up with the idea for Embryo Princess.
Her phone resembles a small pink cube.
According to Pendalton Ward, if Finn was to marry any princess, it would most likely be Embryo Princess. (This is totally bogus)
Her tiara resembles Princess Bubblegum's.
Ad blocker interference detected!
Wikia is a free-to-use site that makes money from advertising. We have a modified experience for viewers using ad blockers

Wikia is not accessible if you've made further modifications. Remove the custom ad blocker rule(s) and the page will load as expected.