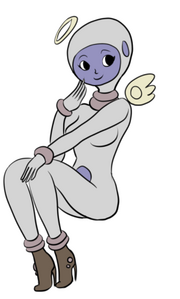 She is a princess of an unknown kingdom.
Space Angel Princess is Natasha Allegri's favorite character
In Space Angel Princess' earlier design, her wings and halo are a more opaque yellow and her boots are a tanner brown. Her body suit is a deep purple and only has a hole for her face. The bands on her suit and dots on her boots aren't in this design either.
It is unknown if we will ever see the Space Angel Princess again.
Ad blocker interference detected!
Wikia is a free-to-use site that makes money from advertising. We have a modified experience for viewers using ad blockers

Wikia is not accessible if you've made further modifications. Remove the custom ad blocker rule(s) and the page will load as expected.